Samuel Heath Door & Window Hardware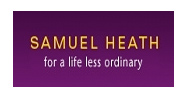 Samuel Heath are a fine manufacturer of Domestic Door Handles Door Knobs and Window Casement and Sash Window Fittings in Solid Brass or Bronze. Many Chrome or Nickel finishes also available. The range of Samuel Heath door knobs, door furniture, door hardware, and window furniture is superb quality handmade british craftmanship.
The staff at Cheshire Hardware have many decades of experience in the specification and scheduling of Samuel Heath door and window fittings.
Please be patient while we populate this section. Please call us with your requirements.