You are here:
Home

-

Lever Handles on Rose
Lever Handles on Rose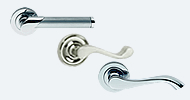 Our range of
lever handles on rose in stainless steel & chrome
finishes is selected from leading brands such as Philip Watts, Croft Architectural, Frank Allart, Eurospec, Carlisle Bras, Heritage Brass, Serozzetta and Karcher Design. Lever on rose handles usually bolt through the door to the other handle to provide a strong fixing, so selecting the correct latch or lock to accomodate this is important. Suitable latch and lock options are shown for each door handle to help you choose the correct fittings.
This category has a huge range, so you may prefer to filter your search by using the
Shop Filters for Price or Brand
on the left hand menu.