Rocky Mountain UK Bronze Patina Hardware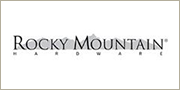 Beautiful handmade Rocky Mountain Hardware UK. Bronze door and window hardware, door handles and window fittings from Rocky Mountain in the USA as well as Rocky Mountain sinks, taps showers and lighting. Hand crafted custom ironmongery of the highest level in silicon bronze brushed patina, silicon bronze rust patina, silicon bronze light patina, silicon bronze dark lustre, silicon bronze medium patina, white bronze dark patina, white bronze medium patina, white bronze light patina and white bronze brushed patina!
Ranges include METRO, RECTANGULAR, DESIGNER (LEATHER & TEXTURES), BRIGGS, MADDOX, CURVED, ELLIS, STEPPED, ARCHED, FLEUR DE LYS, ROUND & OVAL AND PARIS door hardware and also the Rocky Mountain plumbing range including sinks and taps.
Rocky Mountain Hardware UK Cheshire, Chester, Wirral and North Wales official dealers.
PLEASE BE PATIENT WHILE WE POPULATE THIS SECTION OR CALL THE OFFICE ON 01606 888520.