Croft Architectural Hardware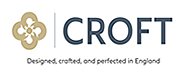 Fine Handmade door handles and hand made door knobs in British BRASS and SOLID BRONZE. Door Furniture and Window Furniture. Door Handles Door Knobs, sliding pocket door hardware and Window Handles from Croft Architectural available in Brass or Bronze and EVERY variant of those materials.
We cannot export this range. Due to a decision by Croft we cannot advertise Croft products online with prices other than a select few. Either contact us by email, phone or the contact form on each product for pricing for delivery in the UK only.