Cheshire Handmade Mirrors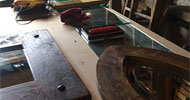 We produce stunning handmade chunky mirrors in various designs locally in Cheshire. There are several base models with many options in size and decoration such as hand-leaded. Rectangular, square, full height and arch top cathedral style are all available as are bespoke designs. If the design you are looking for is not shown please contact the office and we will discuss your requirements further.
There are no products matching the selection.