Oliver Knights Door Handles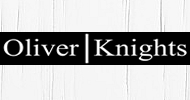 Oliver Knights is an uncompromising top quality brand of British handmade door handles, hardware and cabinet knobs manufactured in the West Midlands. Uniquely, the products are CNC engineered rather than cast which offers a far more exacting and consistent product. Many of the products offered are art deco in design and all carry a heavy weight that is testament to their quality. Hand finished at the factory in all brass variants like antique, satin and polished unlaquered as well as IBMA bronze and dark bronze. Oliver Knights also offer plated finishes such as copper, chrome and polished and satin nickel. Products due to go online once photography samples are available. In the meantime if you have any enquiries please call technical.
There are no products matching the selection.