J H Miller Lighting and Light Fittings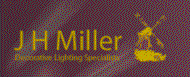 JH Miller has 50 yrs experience as a leading Lighting Manufacturer and distributor of Decorative Lighting for the Domestic and Commercial Markets. Traditional and Contemporary Light Fittings. Product reliability and inovative Italian Designs are hallmarks of the company. We serve Chester, the Wirral Cheshire and across the UK. Please be patient whilst we populate this section.
PLEASE CALL IN OR PHONE IF YOU NEED FURTHER INFO.